NATURALLY FERMENTED BREAD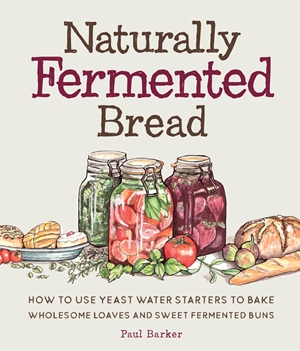 Your Botanical Baking journey begins here.
Learn to bake healthy, gut-friendly loaves and sweet fermented buns using wild yeasts and bacteria cultivated from fruits, vegetables, plants and flowers. Like sourdough baking, botanical baking draws on the amazing process of fermentation and the ancient art of breadmaking to produce consistently delicious, nutritious results and some surprising flavours and aromas. Chapter by chapter, Naturally Fermented Bread will take you through: unique botanical baking methods; basic breadmaking techniques; a range of fermented bread and sweet bun recipes, sourdoughs, and essential tips on edible and poisonous flowers. Authoritative and definitive, this is the perfect introduction to an innovative baking technique and a must for any baker's library.
Paul says: "The three main categories for making yeast-raised products are bulk fermentation, pre-fermentation, and sourdough. I classify baking botanically as a fourth category. In this book, I focus only on starting the fermentation process and then using the fermented botanical water to raise the dough, rather than using fresh or dried yeast. It may seem daunting, even scary, when you start off your first botanical fermentation, growing wild yeast and bacteria in a jar. Please don't be afraid. It is very easy to ferment, and if you respect storage temperatures and allow time to ferment, nothing will go wrong. Over the years, I've met so many customers at my bakery who have commented on their inability to tolerate mass-produced highly processed breads, yet they enjoy my breads without any signs of bloating or discomfort. That is not a scientific study, simply reality."
Endorsements for Naturally Fermented Bread...
"I first met Paul when Cinnamon Bakery appeared on Britain's Best Bakery.  His passion for meticulous scientific baking from the outset set him apart.  In this book Paul enthuses and shares his supreme knowledge of baking using natural botanical fermentation.  Bakers young and old, novice and experienced will enjoy making and baking these tasty and nutritious breads and buns."
Mich Turner
"Bread such a simple thing.... few ingredients that we are all familiar with. So how can it be that few can master this old art! Fermentation is all around us. It's life itself. A Boulanger masters the dough but must master fermentation everyday, especially when working with natural fermentation like sourdough. Paul is a well respected baker, teacher and very passionate too. I love his new take in his new book "Naturally Fermented Bread" as he makes simple every day ingredients a base that can ferment dough and open your taste buds to new flavours! Clearly explained, there's plenty to bake for beginners and lots to learn too for anyone who's love for baking need a little " je ne sais quoi " to raise their baking skills.
Bonne boulange."
"A beautiful book, just what is needed, with great technique tips and wonderful recipes, savoury and sweet, fully explained and all with stunning photos. Never has sourdough home baking been more popular - The perfect book, and it's got the best cinnamon bun recipe in it too !!!!"
Wendi Peters
Published by Quarry Books, an imprint of The Quarto Group. Released 13th October 2020. £19.99 Hardback.
For further info, review copies, author interviews, or any other request please contact:
Melody Odusanya | melody.odusanya@quarto.com | 07951 309 363