Children's Birthday Baking Party
The aim of a Cinnamon Square Birthday party is to ensure the children experience hands-on baking in a fun and educational manner.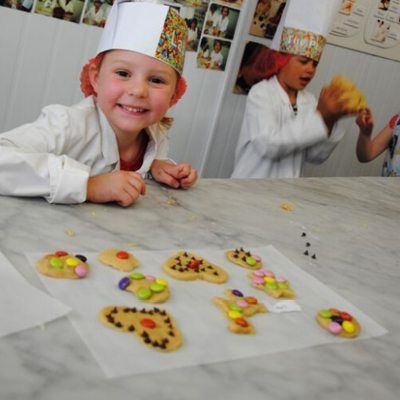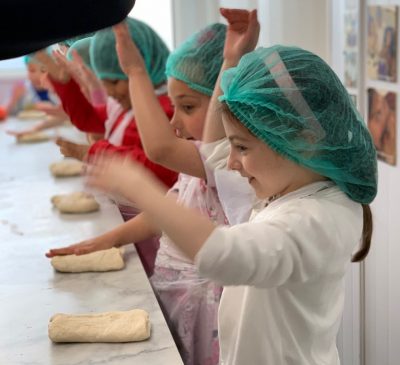 With over 13,000 children previously attending our parties and workshops, you can be assured they are going to be good!
The 2 hour parties take place in 'The Makery' Cinnamon Square's scientific baking laboratory and is suitable for children 5 years and upwards.
These are just some of the highlights of the Party:
The children will make bread, pizzas and shaped cookies
The children will decorate their own Birthday cake
The Birthday child will play the role of our very special 'Professor' and the party guests will be the 'Lab Assistants.'
And what's most important, they'll have loads of fun and it will instill some wonderful childhood memories.
A Cinnamon Square party is inclusive of the following:
The hire of 'The Makery'
Party Tutor
Invitations
The Birthday Cake
Food and drinks for the children
Chef /forage hats for party guest to keep
Cost of all materials used to create the unique baking party
The children will either eat or take home anything that they make
Going home bag to include cookie and bread recipe sheets
The all inclusive cost for up to 10 children is £325 and £18 per additional child (max 15).
Chocolate Parties (autumn & winter) and Cup Cake Parties are also available for children 9 years and upwards.
At the Chocolate party, children learn to temper and mould chocolate to make treats such as teddies on sticks.  At the Cup Cake party, the children make 6 cup cakes each from scratch, cover with frosting and learn to make sugarpaste decorations.
At each of these parties the children make pizza (for lunch or tea) and the Birthday cake. The all inclusive cost for 10 children is £325 and £18 per additional child (max 12).
To book a party please call 01923 778353 or email enquiries@cinnamonsquare.com/ to check availability for your child's special day.
Just wanted to say thank you so much for the most amazing party for my daughter. She had the best time and all the kids who came have been talking about it nonstop since, and that's according to all the other parents too!  Paul was just amazing dealing with 14 6/7 year olds and the things they made were delicious. We will definitely be doing another party soon!
Thanks again, Jemma
I just wanted to say a bug thank you for making Annabelle's party so special. All girls had a brilliant time. Paul was just so funny and kept them all entertained through out. 
The cakes were so delicious and the goodies the girls made were so good too.
Many thanks
Caroline 
Just a quick note to say Gigi's party today was absolutely fantastic.. She had the most amazing morning and loved every second. The lady had 13, 6 year olds in the palm of her hand, couldn't recommend the party highly enough. 
Thanks again for a great party one we'll all remember for a long time.
Thanks 
Lucy 
I just wanted to say thank you so much for the most amazing party for my daughter last Saturday (10th March). She had the best time and all the kids who came have been talking about it nonstop since, and that's according to all the other parents too! Paul was just amazing dealing with 14 6/7 year olds and the things they made were delicious. We will definitely be doing another party soon! Thanks again Jemma
A quick thank you to you, Paul and all the team for my daughter's party today. As ever it was superb! We shall be back ...... Thanks again Justine
Hello- my daughter attended a party today at CS. Wow, you guys are amazing. Not only did you keep 15 kids in line but they were hanging on every word you said. All I could see were laughs and smiles all around. My daughter has learning difficulties and often struggles with instructions but not today, she came home buzzing. The named bag of goodies and the recipes are such a lovely personal touch and great alternative to the usual stuff kids get at parties. I loved the hustle and bustle and your staff were able to continue to operate around us chatty mums and Navigate through with big orders on trays. What a great team- keep it up! Louise