Making Patisserie on a Girls Night Out
At a girls get together last summer, we decided that it would be a good idea to challenge Paul to host a Patisserie Masterclass for us ladies.
We finally managed to fix a date and 7 out of the original 8 could make the date.
Our gatherings generally involve lots of fun and laughter and for most of us, a few drinks. Alcohol was permitted so it was a good start to our very own masterclass!
The class started by making sweet pastry. A huge lump of pastry was divided up so we could make our own individual tarts. Over the years I have seen this done so many times with such ease that I hadn't anticipated just how tricky handling this dough would be. Mine seemed particularly sticky and difficult to get off the table top but after rolling it back into a ball, working it between my hands and using just the right amount of flour, da-tah my pastry cases looked practically like a professionals.
Next we found out how to make chocolate ganache which basically consists of two main ingredients, Belgian chocolate (that's Cinnamon Square's preferred chocolate) and whipping cream. The process is really important otherwise you'll end up with a big lump of chocolate. Sounds nice to me but not ideal for filling my Tart au Chocolats! So one of the tips was to pour the melted chocolate into the cream and not vice versa. After lining our pastry cases with chocolate, we then poured the perfectly formed liquid chocolate into the cases.
We then started on our Frangipanes, which are basically an artisanal version of a Bakewell Tart. We learnt how to make batter light and flurry. What exactly is the definition of light and fluffy? Clearly this would be based on ones judgement but apparently this is where mistakes easily occur – I guess this makes sense really. So Paul shared a very clever but simple tip based on a paint colour chart, so that when we compared our mixed batter from start to end the whitest shade meant it was mixed correctly. You may wonder what's so important about this? Well it seems that if you do not mix the batter thoroughly enough it will curdle.
We proceeded to fill our cases with fresh fruits before covering them with the perfect light and fluffy frangipane mix. These then disappeared into the oven room to be baked to perfection so no-one ended up with a soggy bottom!
As this was a private function, we opted to have a small food (and wine) break. We were after all celebrating Tracey's 50th Birthday. We had platters of sandwiches, ciabatta pizza and salad which was absolutely delicious. We ate, drunk and laughed together which made it extra special. I'd ordered her a Birthday cake which was her favourite, Lemon drizzle and this also went down a treat.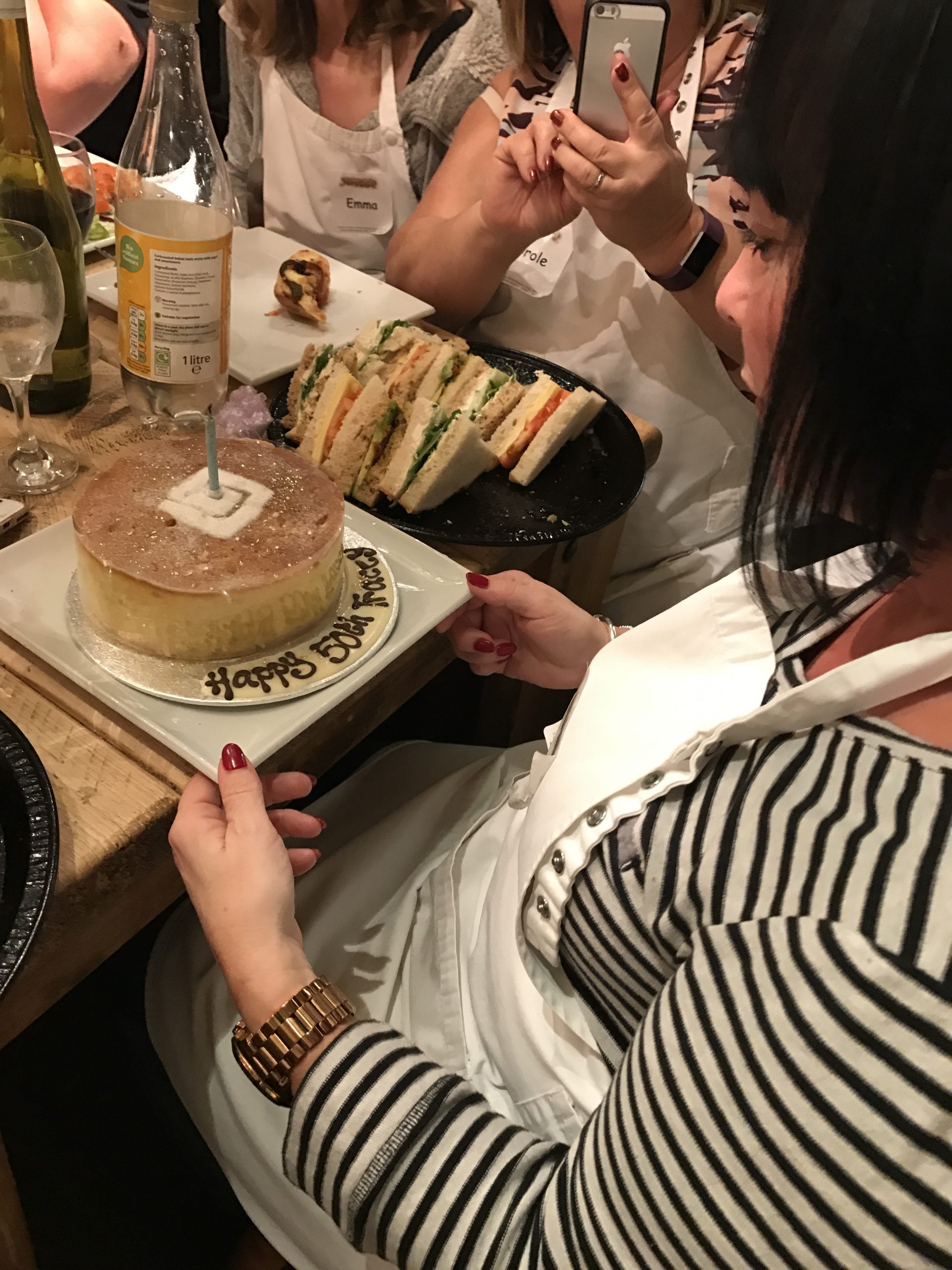 Now back to work to make the filling for our Tart au Citrons and this smelt so delicious. We learnt how to make the filling which included a vast amount of lemon juice and a huge amount of zest too. After pouring the filling into the pasty cases, we learnt how to elegantly finish these with lime zest and dusting using a stencil.
Next we made my favourites, Fruit Tarts! These are filled with creme patissiere which contains fresh vanilla pods. After filling our cases, we covered the tops with our choice of fresh fruits before covering the cut fruit with a glaze to make them look lush and stop them from spoiling.
The final stage was to complete our frangipanes and cover with fondant icing and decorate. Paul made this look so easy but it's quite a skill to master, especially to make the spider web effect look as professional as those in the Cinnamon Square counters.
So the evening was a massive success and we took home numerous boxes of patisserie to show off to our family and friends. Some even managed to taste them!
Most of our group had never made any form of patisserie before but Paul is a great (and patient) tutor and made it so easy for us to follow. He answered all manners of questions and we even established that 18 packs of butter and 3 kilos of almonds were used throughout the course. Best hit the gym soon!
This is one of the most popular courses at Cinnamon Square and now I know why. Not only did we laugh and joke together all evening, we accomplished that of a professional baker which is no mean feat given our complete lack of baking expertise.
Can't recommend this course enough either as a private function or for those who seriously want to learn how to make some mean patisserie.